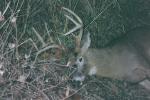 Another Good Buck Down
Big Buck Down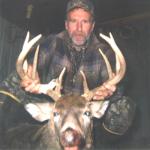 130+ Inches Down
Bobby scores on a nice 130 class buck.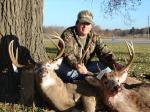 A Cilley & His Buck
Dennis and his bow harvest with a hunting partners in photo as well.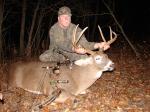 Gary's Full Moon Monster
Gary with a Monster buck that was taken the day of the full Moon. The well over 200 pound dressed buck was with 6 other bucks chasing a doe and while 5 of the 7 were shooters this was the only one Gary could get locked on for a shot. The largest buck in t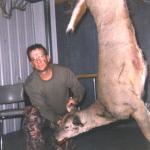 Doe Down
Hunters supporting the management system is a big part of why we have the hunting we do.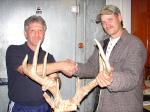 What A Rack Another October Monster Shot In Mid Day
Dave and owner Jason shake hands holding Daves really nice buck the photo can't do some of these monster right and surely this thing was a hog.
Dave & His Rack
Dave holds the rack to his big buck before packing it for the trip home.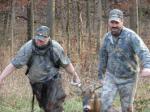 What A Drag Its All Good
Two long time friends drag a monster buck from the timber at their camp here at OUTDOOR PARTNERS. This big buck was taken by one of those creek bottoms you hear about all the time in the midwest. It's always a good idea to have at least one of your stands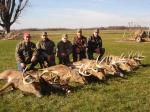 Hunter's lay them Down
It goes with out saying some hunts it is possible for everything to go right! This group of hunters from Vermont surely came ready for a hard hunt and made the best of the opurtunities that presented themselves.