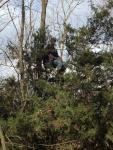 No Mossy Oak So You Can See Me!!!!
Todd & Gary moved into an area that had not been hunted by them in years on their farm. To do so because of the low ceiling and lack of large trees they had to come up with a stand growing popular known as the Eagles Nest! Not as popular yet as the we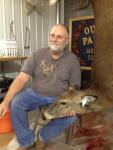 CRAZY OR NOT E-MAIL US & LET US KNOW
If Mike was not Mr. Doe Slayer would he still shoot 3 doe and use a buck tag on a doe? Is he crazy what say's you ? E-mail us and let us know is he crazy he really did place a buck tag on a doe. He used his buck tag on a doe with 1 full day of hunting rem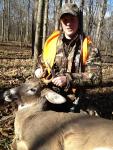 Easton 2012 youth
Easton proudly displays his youth buck here at camp. Youth hunter are not held to antler requirements. This was Easton second youth hunt and second buck his first did qualify above camp rules, he has all so added two doe.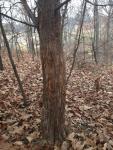 His First Mistake! But Not His Last....
Large rubs indicates large bucks in the area at least one of them is no longer. Here at camp having the freedom on your own farm to scout and place stands where you want them real time is a huge bonus when hunting big mature bucks! Nothing like it can't b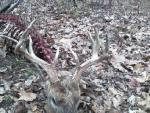 Better Late Than Never? Jeff Stay's Perfect 6 for 6 !!
Jeff left camp shaking his head wonder why he was unable to find his buck. His Dad would find the buck while going in to setup and hunt after Jeff had left for home. No need to say the YOT feasted but at least Jeff will have his rack! The recovery of the
LEE Pulls Off The Double
Lee 2 for 2 after killing Archery Buck adds Gun buck during the first day of gun season .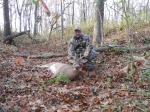 Jayson Displays Yet Another Buck Taken Here At His Illinois Camp
Jayson Takes Down Another Buck Here In The 2012 Season. He harvested a buck last year and actually has started to build quite a wall of mounts from his camp harvest.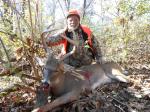 Big Heavy Buck Down
Robert Takes DOWN BRUTE FOR SECOND BUCK IN TWO SEASONS!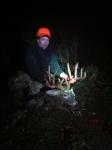 BIG BUCK DOWN AT OUTDOOR PARTNERS BY FIRST YEAR HUNTER Jeff
Jeff during his first season hunting at OUTDOOR PARTNERS got caught off guard just hours earlier and missed a chance at a good shooter buck but this time he was on his game and this heavy 10 pointer is headed to his wall!