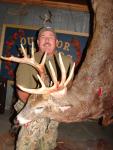 Great Buck Mike
Mike in his second year here at camp scores on a big mature buck. Last year Mike had to leave for home only 2 hours into his hunt so not sure we can say a monkey was on his back but seeing that seems to be the theme here we'll go for it either way as Mike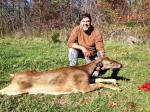 George 2012 bow harvest
George Take early doe to help support management goals while putting meat in the freezer and getting his name in the draw for a discount on a 2013 return hunt.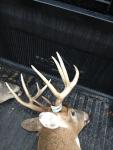 Final Ride
Big buck taking that final ride!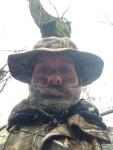 They Let This Guy In The Woods?
It is not Halloween but Todd is unaware & while he has not got on the witches hat it looks like it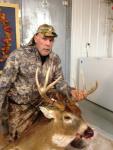 John & His P&Y
John Arrows A Great Buck during his 2012 hunt. He enjoys his own farm him and his partners hunt and surely knows doing his own stand placement improves his odds. We do it all our selves it is awesome!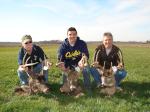 Hunting Friends Get The Job Done!
Hunting friends in camp share a photo session together after Gary , Lee & Marcel all score here during bow season. Having our own farms to hunt and being able to do our own scouting & stand placement not only add to the hunt but surely it benefits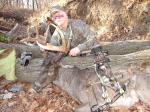 Third Time A Charm
Third time proved to be a charm as Gary adds another P&Y to his wall. After missing a high 160 to mid 170 buck on the first day and then missing a high 130 low 140 buck 6 days later third time is a charm.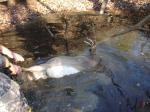 The Deer Final Dive
Big buck takes a dive into deep hole filled with water 75 yards from where he was shot with Easton arrow.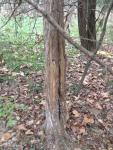 Rub Line
One of several rubs in the area of the stand called the Eagles Nest! getting to scout and set your own stands not only allows you to pick spots where no other hunter has hunted but it lets you get where the bucks are while you are here hunting don't over